Celebrating Easter with Feehilys Florist
One of our favourite times of year, Spring has many things we love. The long Easter bank holiday weekend to spend with family, spotting the colourful new Spring blooms popping up in the garden, enjoying cosy nights in munching through all our Easter Egg chocolates are just a few!
We have been busy working behind closed doors still, and have some egg-cellent ideas so we can still celebrate Easter and all things Spring safely with our lovely customers. Keep reading to find out more and from all the team here at Feehily's Florist, we wish you all a very 'Hoppy Easter!'.
Feehily's Favourite Spring Flower
... as voted for by you! We asked on our Feehily's Social Media what your favourite Spring flowers were. It was a close call for top place, but Daffodils won just by a stem! Other worthy contenders for top position were Tulips, Snowdrops and Hyacinth.
Feehily's Florist have a gorgeous range of Spring flowers and gifts in stock – just like these fab Daffodil Planters which are perfect for Easter. All available for local delivery to Sligo and the surrounding areas, just give our expert team a call to order your Spring flowers.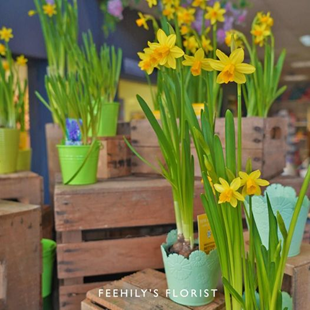 Enter our Easter Competition
Don't forget to enter our Kids Easter Colouring Competition – the winner will be announced later this week! The lucky winner received a beautiful bouquet for Mum (or whoever they choose) and an Easter Egg for themselves.
To enter, draw or paint a picture or colour in something from your favourite colouring book. Get a responsible adult to take a picture and upload in the comments section of our Facebook Colouring Competition post. Good luck to all our entries, we can't wait to see what you have all created!
Behind the scenes
Here is a sneak peek to what Micheal has been working on behind the scenes this week! Some easy decorating tips you can do at home to add some Easter festivity to your table such as natural twigs, hanging eggs, Spring floral vases and floating candles. Head on over to our Feehily's Florist Facebook page to watch the short video and then give it a go yourself!
If you want to get involved and keep up-to-date with all things Feehily' Florist, then head on over to our Facebook and Instagram pages and give us a follow!