Festive Door Wreaths by Feehilys Florist
All our customers go wild for our Feehily's Florist Festive Door Wreaths! A stylish way to decorate your home during December, adding a touch of elegant glamour with a nod to tradition. Every year our flower team are honoured to create bespoke Door Wreaths for homes and festive styling for local businesses in and around Sligo, including for Sligo Park Hotel (pictured below in all its festive glory!) and historic Markree Castle who let us transform their luxury venues into winter wonderlands.
Feehily Florist over a bespoke Festive Door Wreath option – so you can order the exact style, size and colour to suit your front door. Read on to find out more ..
How to order your Festive Door Wreath from Feehily's Florist
That is easy! Simply get in touch with our expert team by calling on 071 9170000 or email us to order your bespoke door wreath. We also have a small selection of door wreaths you can order online from our Christmas Collection. If you have a size, style or colour preference just let us know, as we create each wreath by hand to suit our customers requirements.
Feehily's Florist can deliver your door wreath directly to you - we offer delivery to Sligo Town and the surorunding local areas - or you can Click & Collect from our flower showroom in Carraroe.
What is used to make a Door Wreath?
Feehilys's Florist use a wide variety of natural decorations and accessories to create bespoke Door Wreaths – what we use can depend on the colour and style our customer wants. Evergreens are most commonly used to craft the wreath base and then we could use a combination of berries, leaves, dried fruit, twigs, feathers, fresh or dried flowers, cinnamon sticks (these smell delicious every time you walk past!), pine cones, baubles and ribbons for decoration.
What styles of Door Wreath can you make?
The world is your oyster! Our talented team of florists can create door wreaths in any style you wish; contemporary, traditional, rustic and wild, country garden, modern … even have twinkly fairy lights or glow in the dark if you wish. We can also tailor the colours of your Door Wreath - traditional Red and Gold, stylish sparkly pinks, elegant whites and icy blue are all really popular options.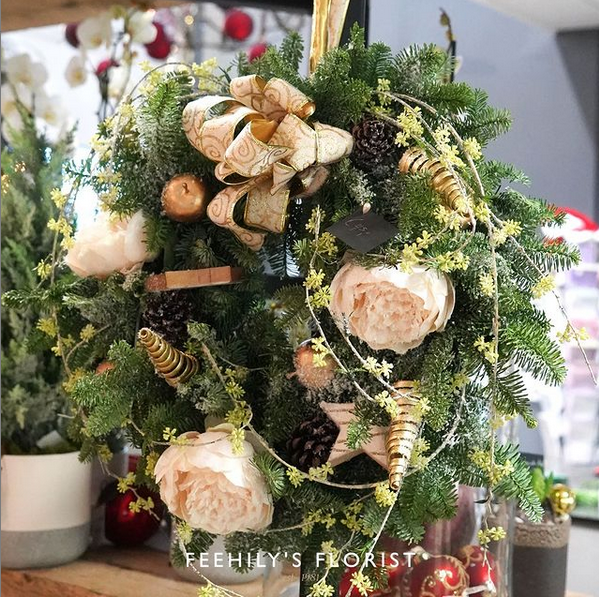 What does a Door Wreath symbolise?
The word wreath comes from an old English word meaning 'to twist'. Evergreens are traditionally used and twisted together into a circular shape - representing strength and eternal life.
Tips to look after your Door Wreath
Firstly, prep your front door! Give the door a wash down before hanging the wreath, to get rid of any dirt that can make the wreath wilt sooner.
Have an over-door hook or sturdy stick on hook ready to hang the wreath from. Our wreaths will have a hanging loop built in for you.
Keep the wreath hydrated! Give the wreath a good spritz of water using a spray bottle every couple of days.
Your wreath won't enjoy extreme weather like strong winds, heavy rain or very cold nights. So if you spot some bad weather on the forecast, you can always pop the wreath somewhere more protected for a day or 2.
Always best to display your wreath out of strong, direct sunlight too.