Winter Wedding Flowers & Trends
We have had a busy couple of weeks here at Feehily's Florist, as our creative design elves have been working to transform our Carroe Flower Show Room into a Wintery Wonderland! And this has got us thinking about Winter Weddings, and some of the beautiful couples we have worked with over the years. So if you are planning your winter wedding for 2021 or 2022, take a peak at some of Feehily's Florist bespoke wedding designs that will inspire you for your Big Day.
The Winter months are fabulous time of year to say 'I Do', with stylish venue theming and Ice Queen style bridal bouquets - and the added bonus of cooler temperatures to help keep the blooms looking gorgeous for longer. Popular wedding flowers such as delphinium, lisianthus, astilbe, soft ruscus, hypericum berries, ivy and ranunculus are all seasonal over this period, and look amazing in bridal bouquets.
Trend #1 Jewel Tones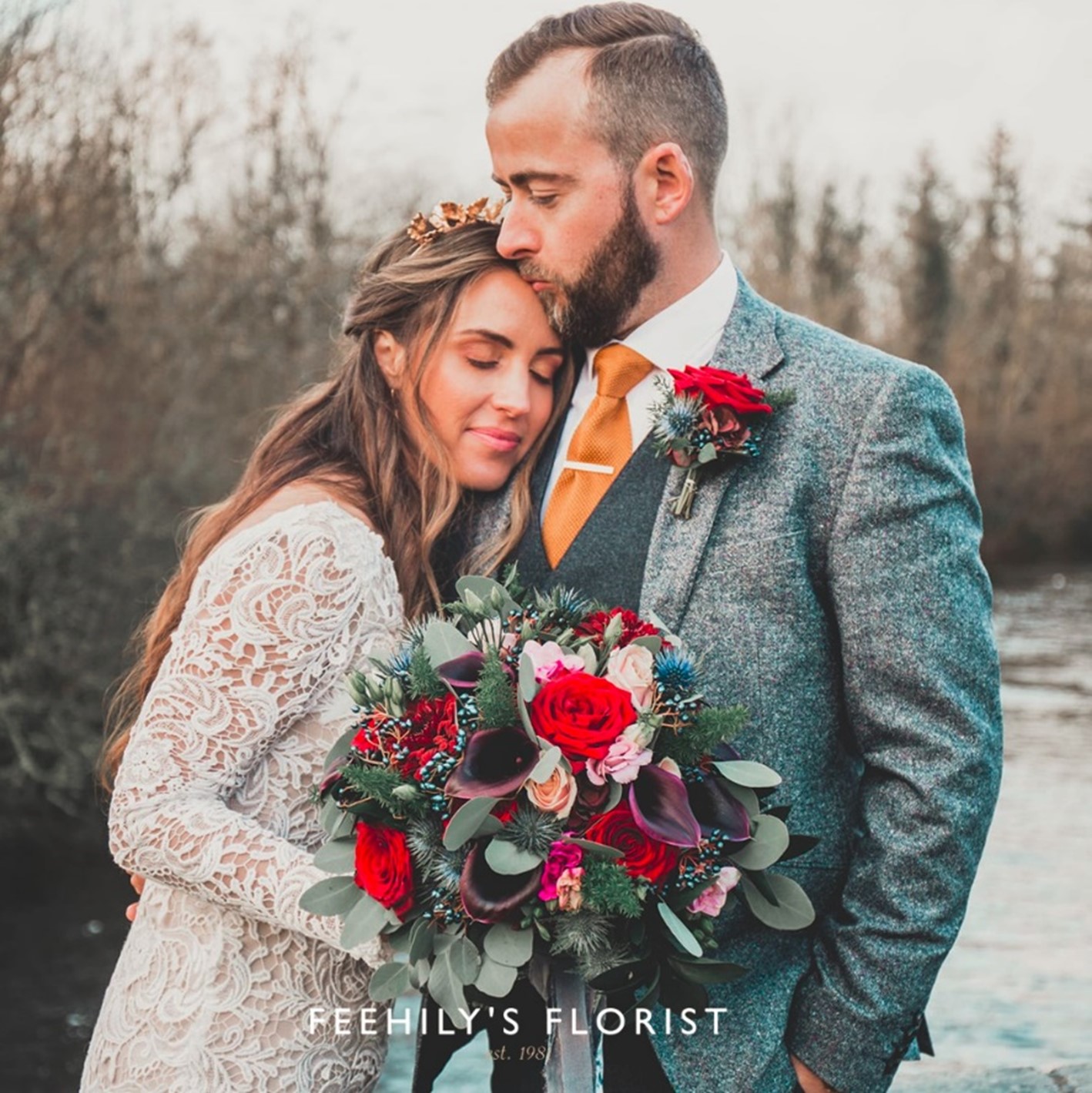 Jewel tones of rich burgundy, ruby reds, velvet blues and forest green look breathtakingly gorgeous for a Winter wedding. The bold tones work perfectly against a white wedding dress and stand out in a striking venue, adding a pop of colour to the day.
We are totally in love with this image from Frankie and Catherine's big day, which really showcases their Jewel toned flowers, designed by our award-winning wedding florists here at Feehily's. We used a mix of gorgeous large red roses, black calla lilies and thistles for the bold colours and softened the look by mixing in some pastel pink and peach roses.
Our Feehily bride Catherine sent us this lovely review after their wedding day;
"The beauty and artistry of the flowers you and your team created for my wedding exceeded any imaginable expectations and were in the end far more beautiful than any inspiration photo I gave you to work with. When I visited you recently with my concerns about bringing together a space as a ceremony venue you helped put my mind at ease, but when I saw on my wedding day what you did with the room I was truly happy. Thank you Feehily's for your indispensable contribution to our perfect day"
Trend #2 Set the scene indoors
The weather can be temperamental all year round, but one thing is for sure – a winter wedding day will be chilly in the UK! Think about what area at your wedding venue will work best for photos, and consider having an indoor WOW area. Just like this wedding set up Feehily's Florist created at Markree Castle – these stunning historic steps are the entrance way, and really add to the overall vibe of the day and make the perfect photo back drop. Tons of candles, silver lanterns and trees in a Wonderland White theme create a stylish yet romantic indoors wedding.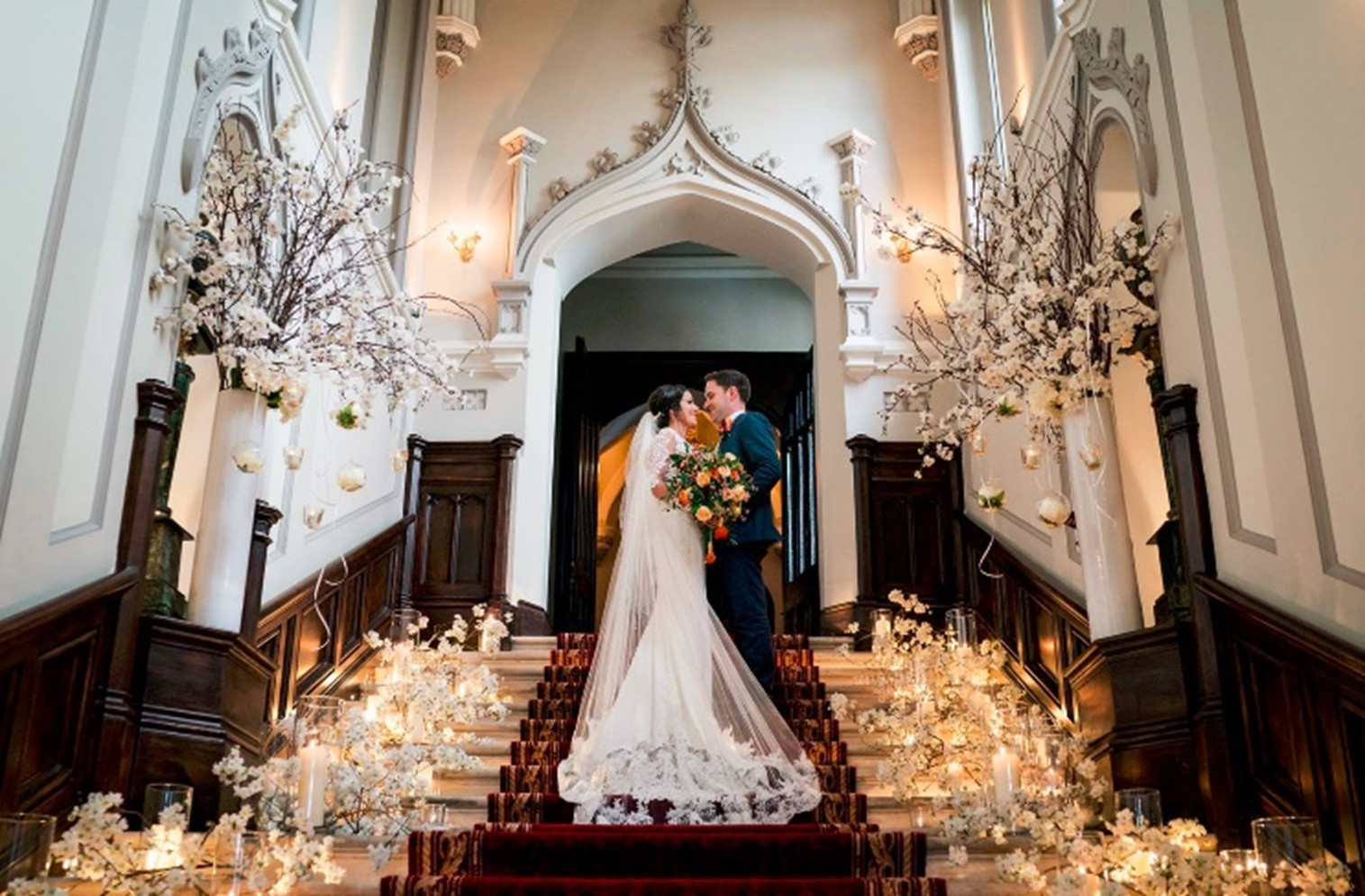 Trend #3 Wintery Whites
Elegantly classic with a modern twist and perfect for winter is a natural white and green theme for your wedding. Having Wintery White as your colour scheme really creates a magical, snow queen feel to the day. Our expert florists would suggest using focal flowers such as David Austin roses in hues of soft creams and bright whites, complimented with silvery green foliage such as eucalyptus.
Have fabulous does our bride Nora look on her wedding day? Our lovely couple Keith and Nora tied the knot at Sligo Park Hotel – one of the many leading wedding venues in Ireland that Feehily's Florist proudly work with. The classic whites with a twist of contemporary for Nora's bridal bouquet worked perfectly, complimenting her wedding dress with gorgeous silver embellishment. We adore this!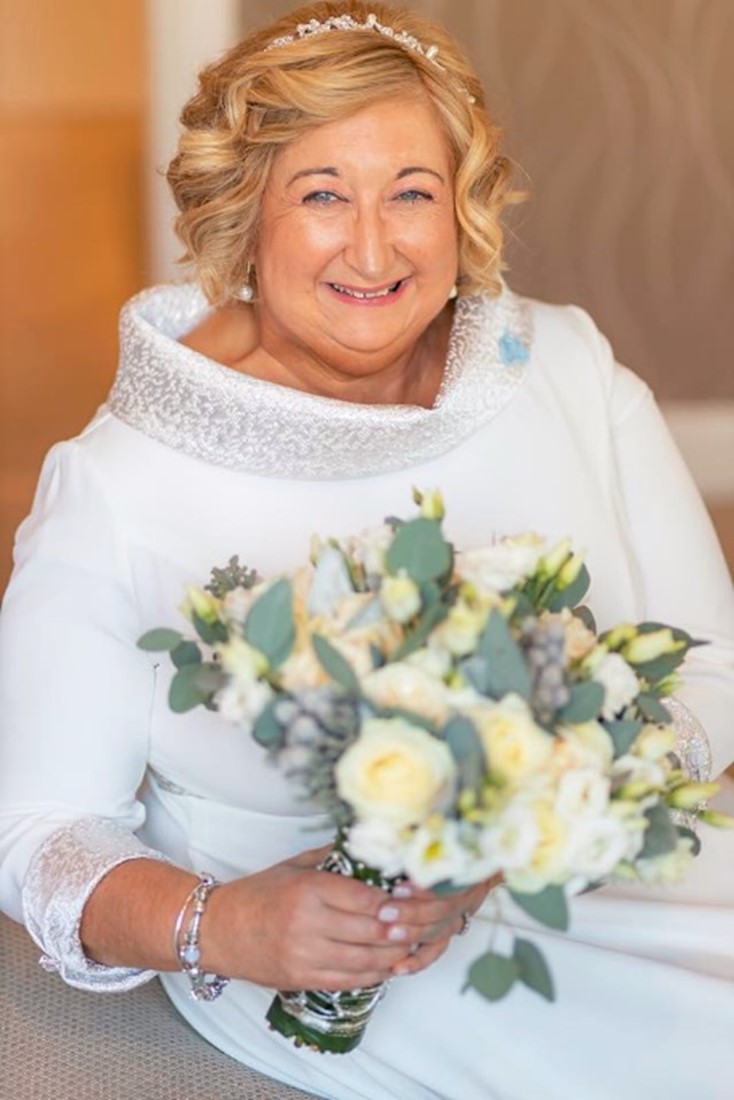 Trend #4 Go all festive
Getting hitched in December gives you the perfect theme – festive romance! For colour tones we can go with deep red roses, forest green foliage with a dash of gold. For the venue, a gigantic real Fir Christmas Tree adorned with stylish decorations – a tree also makes a great place for guests to write a sweet card tag message for the bride and groom and hang it from the branches. Candelabras wrapped with ivy, staircases entwinned with fresh flowers and lush green foliage for the table garlands will make a really memorable wedding day for everyone.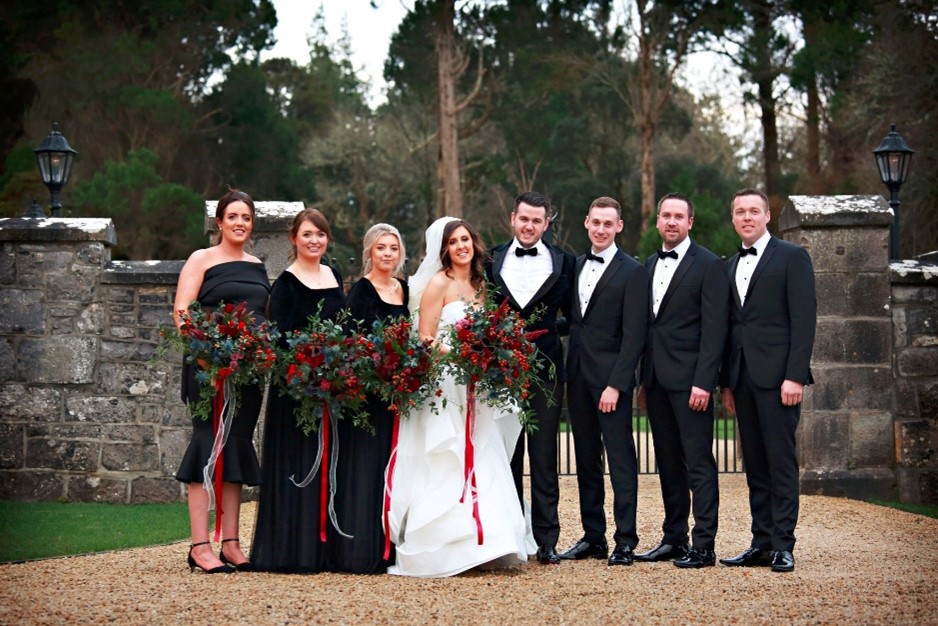 One of our lovely couples Megan and Jamie went for a Christmassy themed December wedding, and wow did it look incredible! Here is what the newley weds sent us after their special day;
'Our wedding flowers were absolutely incredible, we had never seen bouquets like them, they were stunning, exactly what I had asked for. When I first met you (Michael) to discuss flowers I had a bunch of pictures with me and knew I could trust you to make my vision come to life, you took everything I said on board and what we ended up with on the day was everything and more! People are still talking about my wedding flowers, the colours, the size of them, so Christmassy and extravagant, they went beautifully with Markree which is a stunning venue in itself! From the Christmas trees at the entrance to the mounds of eucalyptus on the staircases and candelabras it just oozed elegance and an amazing regal feel without overpowering the venue or taking over."
Planning your Winter Wedding?
Feehily's Florist in Sligo would love to hear from you! Our award-winning team are here to offer you expert guidance from day one, helping you choose the right wedding flowers and venue styling to make your wedding dreams come true. Get in touch with us by phone, email or visit our Wedding Showroom Carraroe Sligo.