Autumn Wedding Trends 2020
Here at Feehily's Florist in Sligo we love the changing of the seasons - time to dig out your favourite cosy jumpers, sample the new pumpkin spiced lattes and beautiful strolls through the woods. And with the crisp days now with us and gorgeous seasonal blooms, Autumnal vibes and fall themes are popular with our lovely brides.
This Autumn, we understand weddings are a little bit different for all of us due to the COVID-19 restrictions. But for all our loved up couples getting hitched in 2020 we can promise a magical day with beautifully bespoke wedding flowers and venue styling by our expert team.
We take a peek at the latest trends for Autumn Weddings that will get you inspired for your big day!
Jewel Tones
Jewel tones are always going to look fabulous for Autumn weddings. Think of colours such as deep purple, rich plum, burnt orange and ruby reds – combined together they create a luxurious and vibrant feel.
Check out this stunning bridal bouquet the Feehily's team created last year for Dee and Gary's wedding. Using an explosion of colour and seasonal blooms such as orange calla lilies, large roses, blue thistle and purple lisianthus. We adore thiese colour hues, as did Dee who sent us this lovely message about her wedding flowers:
"Thank you so so much to the Feehily's crew, you were all so lovely from start to finish and everyone was blown away by the beautiful autumnal theme." – Dee, Feehily's Florist Bride 2019.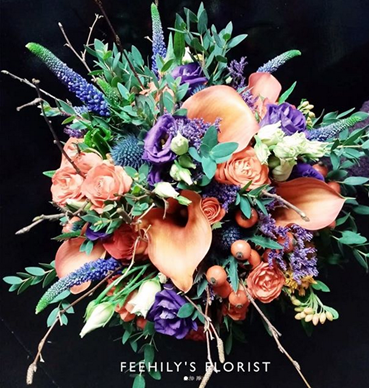 Focal Flowers
With wedding guests being limited numbers this season, our advice is to go wild and invest in a statement focal point to help the venue feel fuller. There are really clever ways to do this, such as Chiavari Chairs with flowing garlands of green foliage and fresh flowers, large statement table pieces, floral arches and flower walls are all great options for filling wedding space.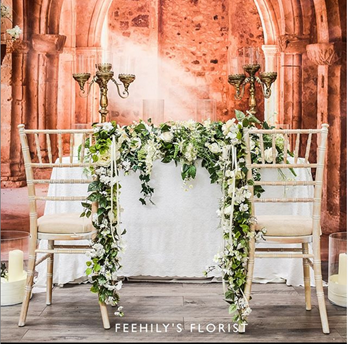 Twilight delight
Getting married late afternoon has its bonuses. One – a much more relaxed morning for the bridal party to enjoy getting ready for the ceremony (no 6am alarms set here!) and two – candlelight. Wedding venues look breathtakingly beautiful in the glow of flickering of candle light, adding to the romantic atmosphere.
We loved this wedding venue décor our team set up at the historic Markree Castle in Sligo, which really help set the scene for the nuptials. Stylish and elegant cream flowers with natural foliage, complimented with an abundance of white candles scattered around - a beautiful setting to say 'I Do'.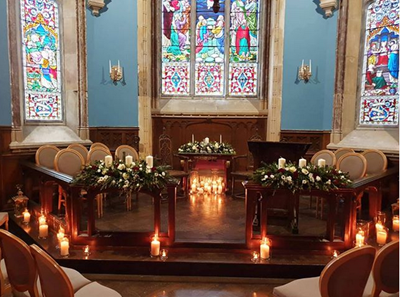 Back to nature
You can get creative in Autumn for wedding venues and photoshoots on the day. We are so blessed to live in Ireland – surrounded by nature and perfect spots to say 'I Do'. So get out there and explore for the ideal photo opportunities for something a bit different or meaningful to your relationship.
We love this photo from Rachel and Francis's wedding! The woodland setting is perfect for Autumn weddings, with the rich burgundy bridesmaid dresses adding a pop of colour and beautifully complimented by jewel toned flowers in their bouquets.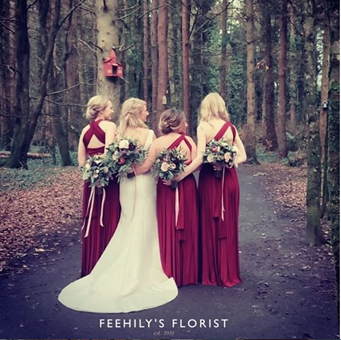 Are you planning your Big Day?
Our award-winning wedding florists are based in Ireland, with our gorgeous wedding showroom in the heart of Sligo Town. Feel free to drop by for some floral inspiration and have a chat with you about your wedding flowers! Want to keep in the loop? Follow us on Instagram for more of the latest trends, ideas and behind the scenes action from your local Sligo florist.