Summer Wedding Trends
Princess Beatrice's surprise royal wedding this month has got us all inspired for Summer Weddings again! Didn't the bride and groom just radiate love and happiness? We adored Beatrice's choice of bridal flowers, designed by expert florist Patrice Van Helden. The romantic floral archway was jaw droppingly spectacular, we think this may inspire some of our Feehily brides for their upcoming wedding flowers!
The princess veered away from royal tradition of all white bridal bouquet flowers, adding her own twist with the delicate pink blooms but still incorporating some of the royal favourites. Her wedding flowers included trailing jasmine, pale pink sweet peas, ivory roses, pink garden roses and baby pink astilbe – stunning flowers for a summer wedding.
So what other wedding flower trends do we predict for summer weddings?
Romantic floral arches
Here at Feehily's Florist we often get asked by our happy couples for floral arches. The luxury wedding venues we work regularly with in Sligo such as are the perfect setting for romantic arches – adding glamour and décor to a space, perfect for framing special moments. We adore a designing a flowing floral arch for the happy couple to say 'I do' under or for the signing of the registry.
Below is a photo from our bridal flower show room in Cararoe near Sligo Town, showcasing some of the Feehily's Florist wedding flowers available. We work with each happy couple to design bespoke wedding flowers to suit your theme, style and venue.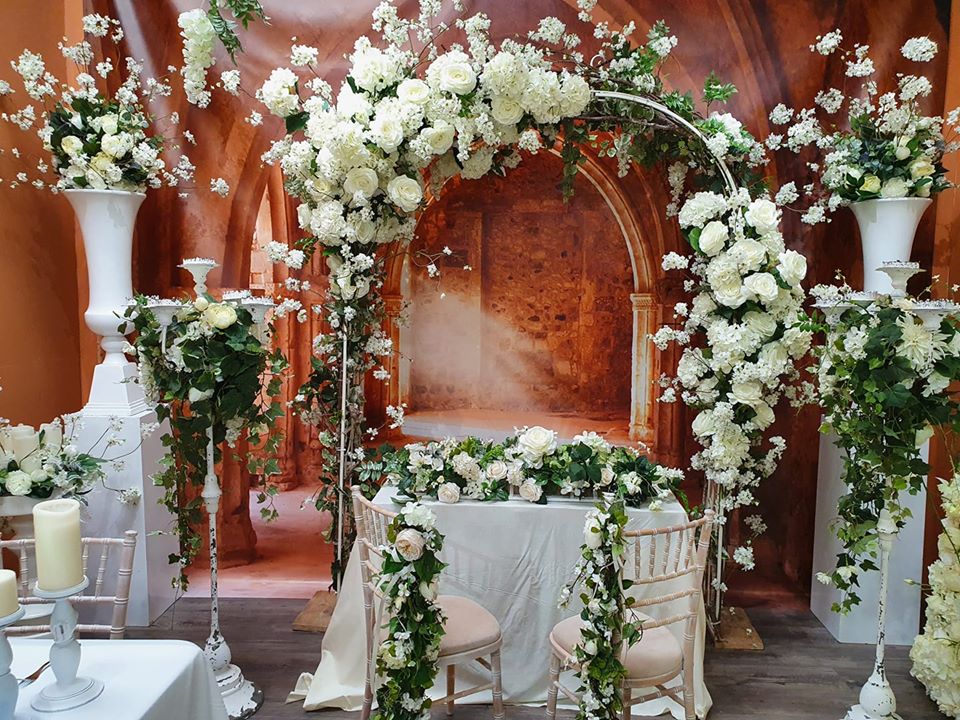 Dried flowers
This year we have seen a massive demand for flowers online, with dried flowers being one of the top trends of 2020. Pampas grass and dried bouquets has been filling our Instagram this summer, perfect for having at home during lockdown. We created the below floral design for our Sligo flower showroom, showcasing dramtic blooms and dried grass for a stylish wedding
Dried flowers also work really well for wedding flowers, adding a different texture to compliment the fresh blooms. Dried Lavender is an excellent choice – it smells divine, long lasting to survive hot summer days in Ireland and has a deep, rich colour.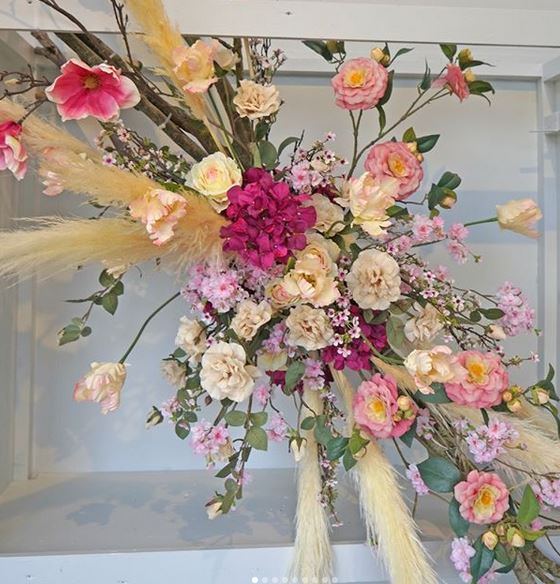 Pretty in pink mix
We predict soft pale pink flowers for the wedding flowers will be huge for Summer weddings. Inspired by Princess Beatrice, our wedding florists think brides will ask for a bigger variety of pink flowers in the wedding flowers, moving away from just one feature bloom. We love mixing different flowers to create bridal bouquets – it adds texture, beautiful floral scents and allows us to play around with a relaxed flowing look.
Check out the pink themed buttonhole we cretaed for a recent wedding - this shows how mixing differnt flower varities and shades of pink can work so well.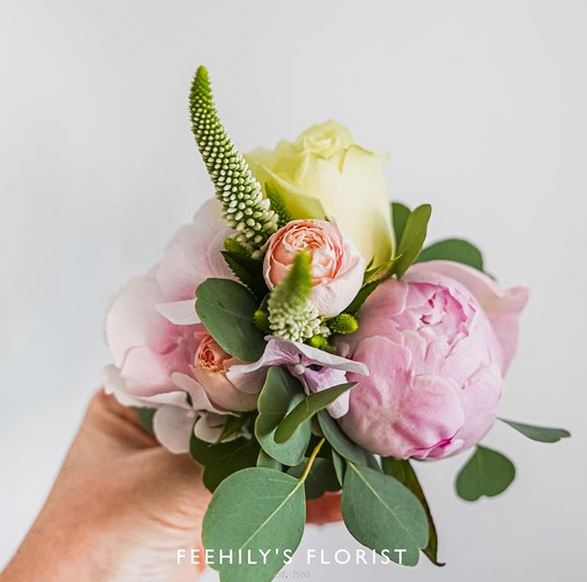 Are you planning a Summer Wedding?
If you have recently become engaged and are planning your summer wedding in Sligo, Feehily's Florist would love to hear from you! Our wedding florists are full of knowledge, latest trends and inspiring ideas to help make your big day extra special with bespoke wedding flowers. Check out our dedicted wedding flowers online website or give us a call on 071 9170000.
Want to keep up-to-date with Feehily's Florist? Follow us on Instagram and Facebook for behind the scenes from our Sligo wedding team.