How to look after your cut flowers
Have you just received a beautiful bespoke bouquet of flowers from your local florist? We hope you adore your seasonal blooms – the team at Feehily's Florist love creating gift bouquets and seeing the recipient's happy smile when we deliver the fresh flowers to their front door!
With some basic TLC, you can help your cut flowers look blooming beautiful for longer! Our expert florists from our Sligo flower shop have put together some of our favourite tips and answer frequently asked questions about how to look after your flowers at home.
Flower care tips from Feehily's Florist
Do I remove the packaging?
Your flowers will be delivered with protective wrap around them, so carefully remove this. Some floral gifts come already arranged in a vase or container, so you can just find a place to display at home and check the water every couple of days.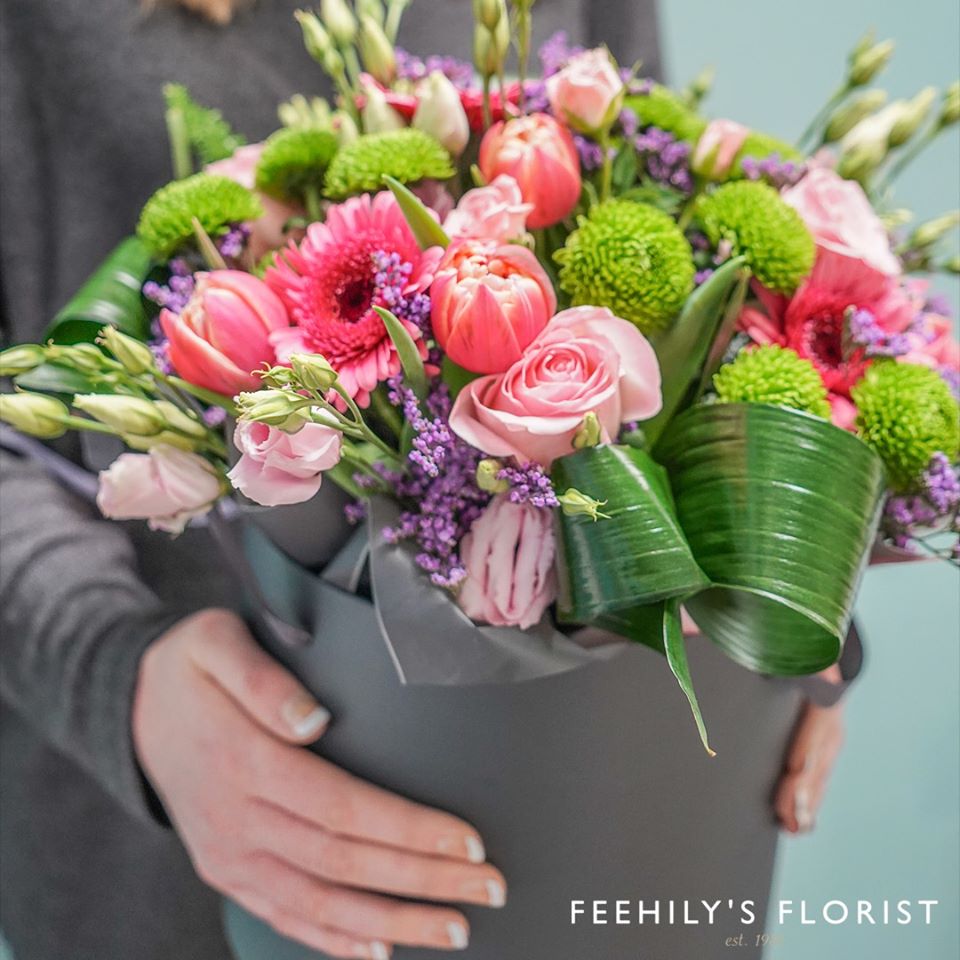 How do I choose the right Vase?
We recommend picking a vase that is half the height of the flowers – this gives enough support for the stems, whilst allowing enough room for the flower heads to beautifully display.
Make sure your chosen vase is clean before using – give the vase a rinse in soapy water to remove any bacteria.
How much water do I add?
Fill the vase half to two-thirds full with water from the tap. Your flowers will prefer room temperature water, avoid hot or very cold water as this can shock the flowers. Then add the sachet of flower food that came with your bouquet – this contains nutrients that help the blooms stay looking beautiful for longer.
Do I need to trim the stems?
Yes! This is one of the most important steps to do.
Using sharp scissors, carefully snip approximately 2cm from the bottom of the stem at a 45 degree angle. This gives the stem more surface area to absorb water.
Should I remove the leaves?
Not all leaves need to be removed, you only need to remove foliage that will sit below the water line - carefully strip the foliage that needs removing from the stem. By doing this, it stops the leaves sitting in water and decomposing, which can cause debris in the water and build-up of bad bacteria.
Where can I display my flowers?
Finding the perfect spot at home is key! You want the flowers somewhere you can enjoy them on display but also where they will be happy. Cut flowers prefer cool conditions – so avoid placing them by heat sources (such as log fires or radiators), not in strong direct sunlight, and keep them out of drafts.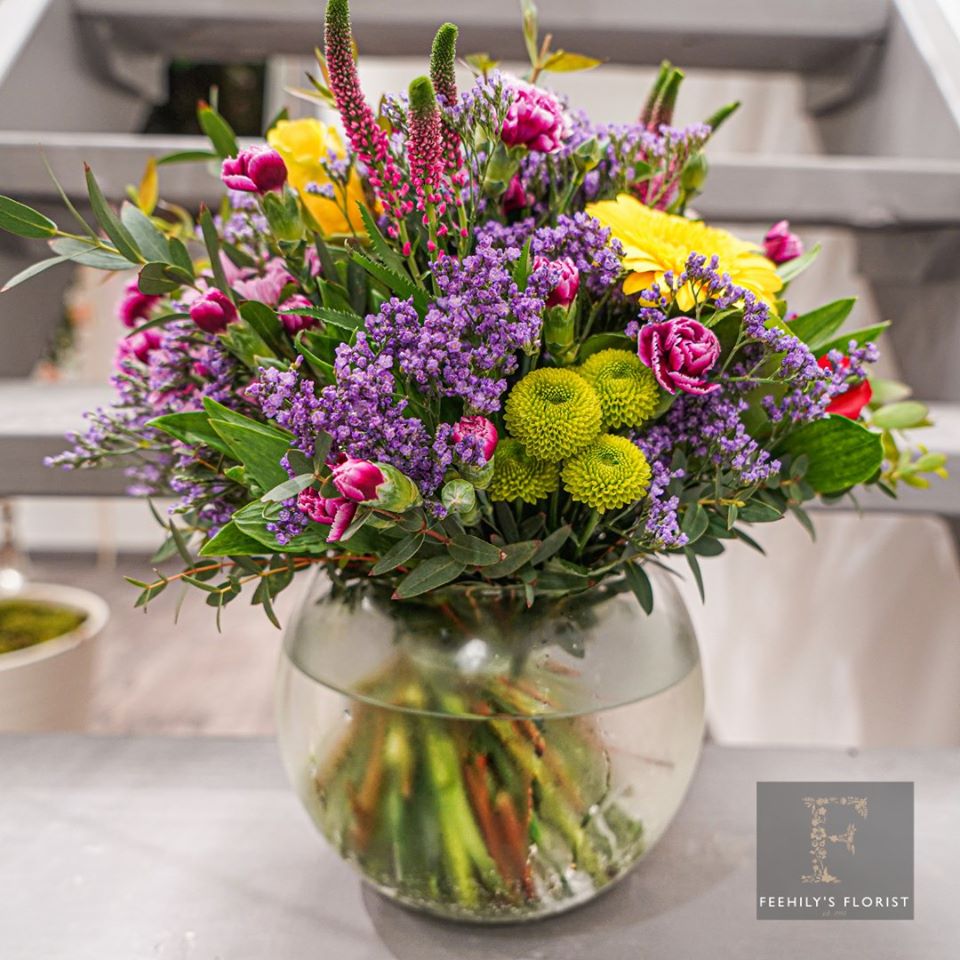 Do I need to change the water in the vase?
We recommend to check the water every other day and keep it topped up with fresh water – flowers are thirsty things, especially Tulips! If you notice the water has turned cloudy it is time for a complete change – remove the flowers gently (whilst the flowers are out, you can give the stems another quick snip), rinse the vase with warm soapy water, add fresh water and pop the flowers back in.
Can I remove any faded flowers?
Yes, if you notice any flowers fading in the bouquet and past their finest you can remove the individual stem or carefully pinch the dead flower head to remove.
Flowers from Feehily's Florist
We hope you enjoy your flowers from your local florist, if you have any questions just get in touch with the expert team at Feehily's Florist - we are alwasy happy to help.