Top 5 May Flowers
There is much truth in the quote "April showers brings May flowers". The month of May brings an influx of seasonal blooms that are some of our favourites to create beautiful bouquets with! Our Feehily florists have voted for their top 5 flowers of May to share with you – so here is our shortlist!
May Flower #5 Lisianthus
We love Lisianthus! A really versatile flower, easy to care for and long lasting which makes it a great stem to use in our bespoke bouquets. Lisianthus come in a range of colour options including white, pink and purple so our florists can easily tailor the bouquet to suit the requested colour scheme. One of the best features is they have unusually long and sturdy stems, so are the perfect flowers for a tall glass vase in the home.
May Flower #4 Blue Iris
Iris is a lovely flower for May, with striking petals and unusual shape. Iris flower meaning is for wisdom, hope and new life – so our florists often use them in New Baby bouquets for a hidden symbolic meaning.
The Blue Iris is one of our favourite types, with vibrant blue/purple outer petals and yellow centre. Here it is featured in one of our recent seasonal bouquets - all hand made and wrapped in our Sligo flower shop. It looks fabulous with the contrasting pink roses and tons of fresh foliage.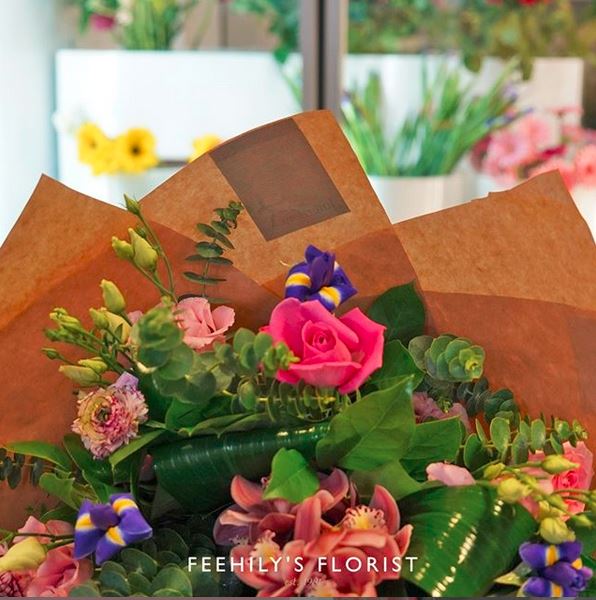 May Flower #3 Ranunculus
These stunning blooms had to make our top 5 shortlist! Ranunculus are beautiful flowers with a really luxurious feel to them – perfect for gift bouquets to spoil someone special. They are at their very finest in May, so here at Feehily's florist we like using them in our bespoke seasonal bouquets. Ranunculus come in a range of colours including dazzling white, lemon yellow, soft peach, baby pink and burgundy so we have lots of choice for making colourful floral designs.
Ranunculus is also one of the most requested blooms from our Feehily brides, they look beautiful nestled in bridal bouquets for stylish weddings.
May Flower #2 Sweet Peas
These are adorable flowers, that smell divine and add a delicate touch to floral bouquets. Our florists love using Sweet Peas to create romantic gift bouquets to celebrate anniversaries, as the soft pastel shades look beautiful mixed with pale roses. Sweet Peas also look fantastic displayed in a small vase at home and add a summery feel!
May Flower #1 Peonies
A hit with florists and brides, it is easy to see why the Peony is our number one flower for May. It is rumoured to be Megan Markle's favourite bloom – and we know she has good taste! Peonies look stunning as the feature flower in a hand-tied bouquet, we keep it simple by just adding some lush green foliage to really showcase the peony.
These gorgeous flowers are very seasonal, and are at their very best in May and June. Known for their large round head, with petals that start as a tight ball and slowly unravel to reveal layers and layers of beautifully delicate and frilly petals. Peonies come in a range of romantic colours such as pastel pink, lilac and cream which makes them perfect for summer weddings in Ireland!
Just like the picture perfect Peonies from one of our recent Feehily's Florist brides Andrea, whose stunning bridal bouquet contained pastel Peonies and Roses.
Photo credit to Mark Capiltan.
Fresh flowers and gifts safely delivered to Sligo
Although our flower shop in Sligo is not currently open to the public due to COVID-19, our talented Feehily's Florists are still working hard behind the scenes. We can offer contactless flower delivery to Sligo and surrounding local areas - just give our team a call 0719170000 and we can help. Flower availability may vary, but our expert florists always source the finest seasonal flowers and deliver safely to the front door of the recipient.
We look forward to opening our doors again soon - we will keep you posted!