Wedding Inspiration with Feehily's Florist
As we enter the month of April, it is strange feeling for the Feehily's Florist wedding team this year as we are normally knee deep in romantic roses and up to our elbows with lush foliage creating flowers for our happy couples getting married in Spring. All things weddings are currently on hold due to COVID-19, but never fear we will be back in our wedding studio as soon as we can!
So instead, we are taking the time to take a peek back at some of our favourite wedding flowers from the last year! There are so many stunning images from our couples big day that they share with us, which makes it hard to narrow it down. The Feehily's Florist wedding team feel lucky that so many people getting married ask us to be involved in making their day extra special with flowers from Feehily's.
Our expert wedding florists like to get to know every couple that come through our Sligo studio door. Every couple's love story is different, which is why every Big Day is unique – and your wedding flowers are a huge part of that. From grand celebrations in historic Castles, intimate gatherings at your favourite restaurant to exchanging vows on exotic beaches, we have been part of all of your wedding dreams!
Contemporary Castles
It was such a pleasure being part of the wedding of Molly and Ross, which took place back in September 2019. This lovely duo tied the knot at Markree Castle, a luxurious wedding venue local to us in Sligo.
We loved Molly and Ross's vision of an elegant wedding day with a contemporary twist. Their colour palette of white and forest green was the perfect starting point when we sat down to chat about the wedding flowers plan with them, and the theme evolved naturally. It was all in the detail, with blooms in soft tones and seasonal foliage in the bridal bouquets. We adore these photos of the floral archway which frames the beautiful bride and her tribe, and the stunning entrance staircase adorned with flowers and romantic candles.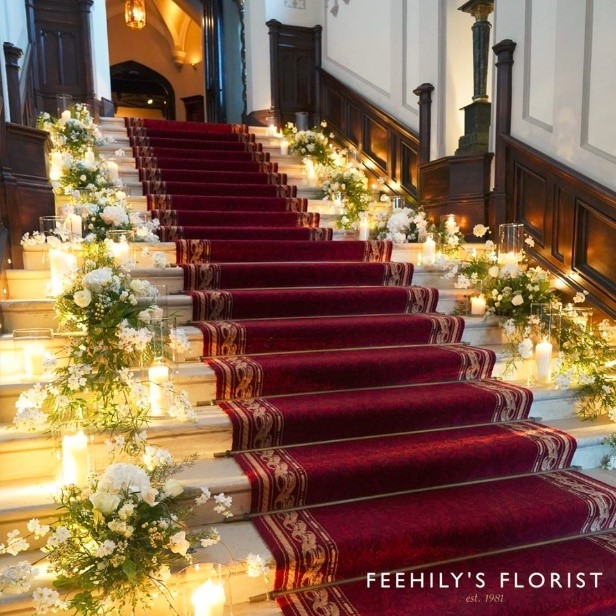 Perfect Peonies
Back in May 2019, Andrea and Christopher married at local wedding venue Sligo Park Hotel. Set in beautiful parkland and surrounded by scenic countryside, it was the perfect location for a special wedding – even if they did have to brave the weather!
Our talented wedding florists loved working with this loved up pair, who wanted seasonal blooms in soft neutral shades. We used a romantic mixture of pink peonies - which are perfect for early Summer weddings - and soft cream roses, complimented with lush green foliage for texture. Award-winning photographer Mark Capilitan captured the picture perfect wedding day on film, which shows off the happiness, love and of course the bespoke wedding flowers!
Andrea got in touch with Feehily's Florist after they returned from honeymoon -
"We loved our wedding flowers - you did a fantastic job and were a pleasure to work with. Would highly recommend Feehily's Florist to anyone planning their wedding!!"
Exotic dreams
Nathalia and Karl had big and exciting ideas for their September wedding, and Feehily's Florist was up for the challenge! The gorgeous couple said 'I Do' at the historic Markee Castle, with a day full of exotic colour and romance.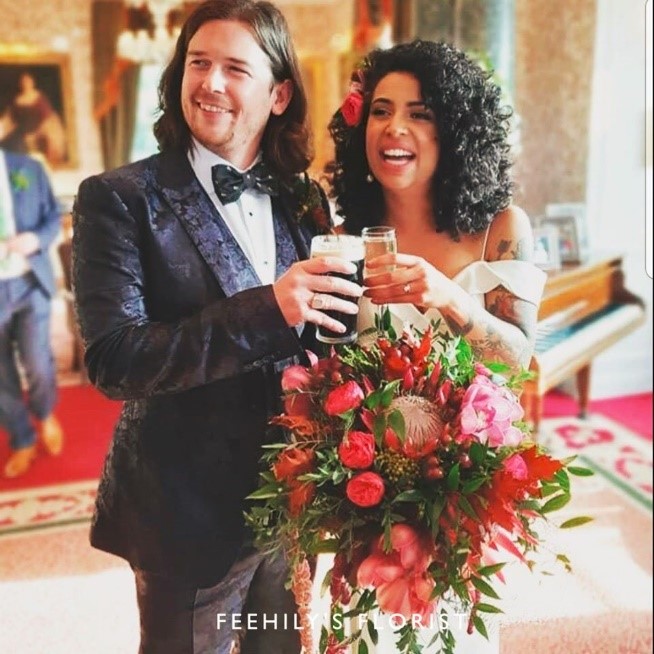 Our wedding team used bold and bright flowers to create an impactful bridal bouquet for Nathalia. With a twist of gold theme to compliment the hot exotic pink blooms, the flowers added a luxurious splash of colour to the happy day. We loved designing the flowers to add the finishing touch to the stunning wedding cake, made by one of our favourite wedding cake bakers in Sligo - McG Cakes.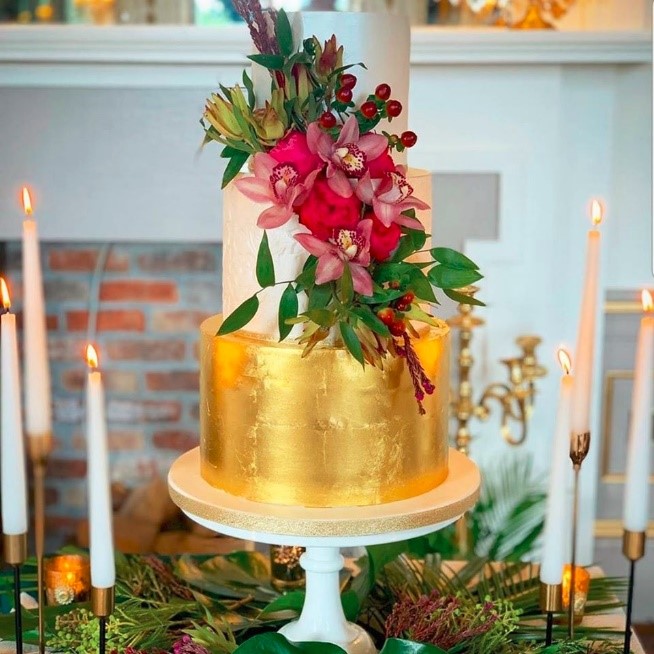 Nathalia sent us some kind words after their wedding day, which made our hearts melt after the journey we had been on them.
"I can't describe how stunned I was when I first saw my wedding flowers… Michael and Feehily's Florist team a massive thanks. It was beyond my dreams and made our big day even more special! "
Are you planning your wedding?
Although weddings are temporarily on hold, our wedding florists are looking forward to the future when we can get back to creating magical wedding flowers for you! If you are planning your wedding and would like more information about wedding flowers and packages by Feehily's Florist in Sligo, please get in touch with us – we would love to hear from you.
Feehily's Florist is still here for wedding flower inspiration – follow us on Instagram and Facebook to keep up-to-date with our Sligo team.